Choir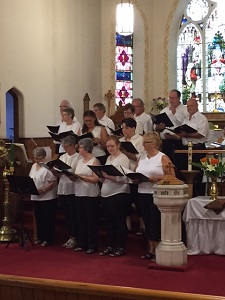 Every week the 10:00 am worship is enriched by the vibrant music of our choir, under the leadership of the Director of Music, Donna Matheson. The choir is comfortable with a range of musical styles, from classical to gospel, contemporary to Taize. Additionally, a number of choir members are skilled instrumental musicians, and their musical gifts are utilized to augment the worship experience. Anyone is welcome to turn up for choir practice at 7:00 pm to 8:30 pm on Wednesday evenings. For more information, contact Donna at 613-498-6588.

Any instruments, and all levels of skill are welcome!
On Sunday, January 6th 2019, the people of St Paul's said good bye to our organ. Virginia Glover organized a small "recital" which included organ solos and hymns played by Virginia herself and Donna Matheson, the current Music Director at the church.
It was a time of thanksgiving for the years of service that the organ gave to St Paul's. And as Rev Lynn led us in a prayer of Decommissioning, there were some tears as we said good bye.