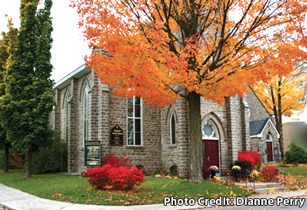 Welcome to St. Paul's Brockville.
SPECIAL NOTICE:
Dear Friends,
The latest direction from our bishop is that we suspend ALL public worship and events until further notice. Please visit our diocesan website for more information and to link with online worship events that will be offered: https://ontario.anglican.ca
Church is not cancelled!! We are the church wherever we are and church cannot be cancelled. We will not be worshipping together but we are still ONE as Christ's Body in the world. Please say "Worship has been suspended" not "Church is cancelled". This is a small but important difference.
I will be having small, necessary meetings with distance and precautions and will be available for pastoral care and conversations. Please do not hesitate to contact me.
In Peace,
Lynn+
We are a family focused congregation discovering together what it means to be followers of Jesus in our town and for our time. Some have attended St. Paul's their entire lives. Others are new to any church. Our motto is Being Disciples . . . Making Disciples. The word 'disciple' means 'learner'. We want to be a learning congregation - open to God's direction as we read and study Scripture. We want to worship in joyful, strengthening ways. We want newcomers to feel welcome and members to know that they belong to a loving, supportive Christian community. And we try hard to serve our city of Brockville in practical, tangible ways.